colourschool (2006-2008)
Free school
colourschool was a free school within a school dedicated to the speculative research and exploration of five colours: black, white, red, yellow, and brown. For one year it occupied an MFA studio at the University of British Columbia and then for another year it took up residence within the Interactive Digital Studios at the Emily Carr Institute of Art + Design.
Providing a free and open space for critical investigations of colour, identity, artmaking, and knowledge production, colourschool attempted to develop a collaborative colour consciousness through a variety of events including reading groups, film screenings, listening labs, interviews, roundtable discussions, brown bag lunches, performances, and installations, among other activities.
colourschool (2006-2008)
colourschool at the University of British Columbia
colourschool (2006-2008)
colourschool at the University of British Columbia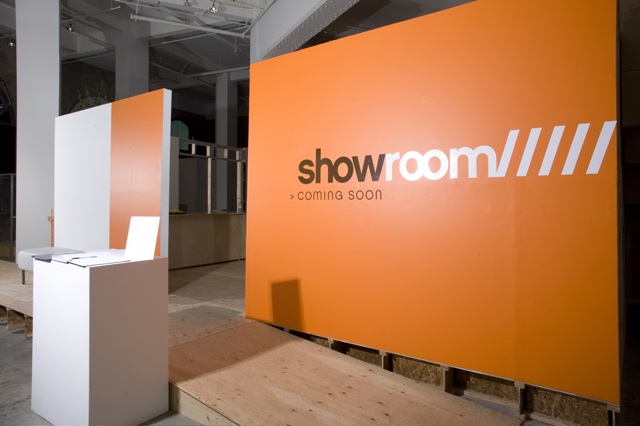 Showroom (2008)
Installation, Symposium, Forums Centre A, Vancouver, Curated by Makiko Hara
Showroom presented a platform for addressing the relationship between art and public space through the framework of a condominium showroom and construction site. The project engaged with urgent themes of contemporary culture, spatial practice, and artistic production through an installation, symposium, and series of public forums that included architects, urban planners, artists, housing advocates, curators, and artist run centre curators and administrators. Showroom facilitated discussion and analysis between cultural institutions and individuals involved in looking at the impact of urban (re)development in Vancouver and beyond.
Showroom was conceptualized, designed, and organized by Kristina Lee Podesva and Inge Roecker in collaboration with Michelle Allard, Marianne Bos, Patrick Chan, Paul de Guzman, Vanessa Kwan, Gwenessa Lam, Heidi Nagtegaal, Alex Pensato, Ryan Peter, and Jordan Strom.
The project owes much inspiration to Martha Rosler's If you lived here from 1991.
Images: Will Ting
Showroom (2008)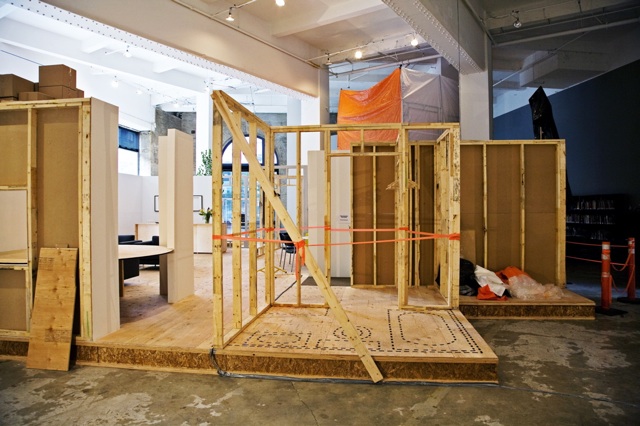 Showroom (2008)
Showroom (2008)
Vehicle (2008-2009)
Langara Centre for Art in Public Spaces Residency
Vehicle re-purposed the symbolic and architectural space of shipping containers to catalyze conversations and collaborations concerning our experience of globalization. It provided a spatial and programmatic frame for slowing down global flows for speculative study. Through a series of reading rooms and re(writing) events, the project proposed that an intimate, interactive site could localize and temporarily slow rapidly moving global currents.
Vehicle's Reading Rooms
An integral part of the project included reading rooms, inspired by Aleksandr Rodchenko's Worker's Room for the 1925 Paris Exposition. For each room, I worked with a collaborator to create three, one month-long installations -- Thought for Food (with Jeffrey Swartz), Copy Room (with Jeff Khonsary), and Book Drop (with Vanessa Kwan). Each room broadly and respectively investigated themes of consumption, property, and labour in conjunction with Vehicle's overall study of globalization.
Vehicle's (Re) Writing Events
In dialogue with Vehicle's reading rooms, were events and activities that took an experimental and informal approach to the study of globalization through small group meetings, workshops, and discussions. These events developed through collaborations with the Langara faculty, students, and local residents.
This project would not have been possible without the incredible vision and strenuous work of Barbara Cole, Lorna Brown, and the many staff, faculty, and students at Langara College, especially from the Art and Facilities Department.
Vehicle (2008-2009)
Langara Centre for Art in Public Spaces Residency, Vancouver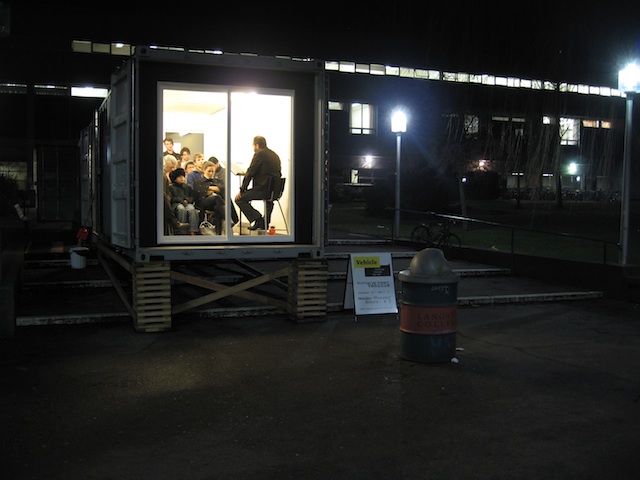 Vehicle (2008-2009)
Langara Centre for Art in Public Spaces Residency, Vancouver
Cornershop Projects (2007-2008)
Cornershop Projects offered a flexible framework for engaging with economic exchange. Located in a former corner store, Cornershop hosted, initiated, and encouraged projects that examined the possibilities and limitations of financial transactions including, but not limited to, buying, selling, begging, borrowing, stealing, renting, owning, bartering, blackmarketing, etc…
Cornershop Projects was a collaborative space for activities hosted by Sophie Brodovitch, Jacob Gleeson, and Kristina Lee Podesva.